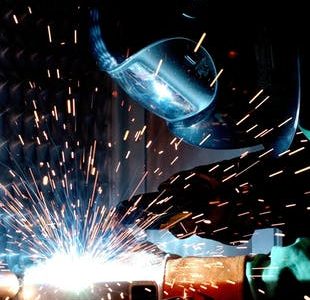 Program Overview
The Welding pathway is a 3-year program housed at both Elgin High School in District U-46 and Hampshire High School in District 300. The program is available to students in 10th grade. Students participating in the program will learn a variety of welding processes and techniques that will equip them to earn certification from the American Welding Society.
Course Descriptions
Fundamentals of Welding
10th Grade  /  1 Period  /  Prerequisites: None
This course enables students to gain knowledge of the properties, uses, and applications of various metals, skills in various processes used to join and cut metals (such as oxyacetylene, shielded metal, metal inert gas, and tungsten arc processes), and experience in identifying and selecting appropriate techniques. This course includes welding safety, blueprint reading, welding symbols, welding practices, and welding fabrication techniques.
Welding I
11th Grade  /  2 Periods  /  Prerequisites: Fundamentals of Welding
This course assists students in gaining the knowledge and developing the basic skills needed to be successful in welding technology. Units of instruction include arc, TIG and MIG welding, metallurgy, cutting metal using arc, plasma, and oxy-gas. In addition, students learn the basics of blueprint reading, welding symbols, precision measuring, layout, and production process planning. Students will also perform 3G vertical up welding for evaluation for American Welding Society certification.
Welding II
12th Grade  /  2 Periods  /  Prerequisites: Welding I
This course builds on the skills and concepts introduced in Welding I and will provide more in-depth skill development in various types of welding including horizontal, vertical, overhead, and circular techniques as well as 3G certification welds for MIG and TIG. Units of instruction include advanced out of position arc, TIG and MIG welding, industry weld fabrication techniques and welding print interpretation and process organization. In addition, the students will learn to analyze weld quality and troubleshoot problem welds.
Have Questions?
Contact EFE Director Terry Stroh at 224-990-7070 or via email at terry.stroh@central301.net.